The farm has been in the family for generations and today Kath and Roy grow corn and keep around 260 South Devon cattle.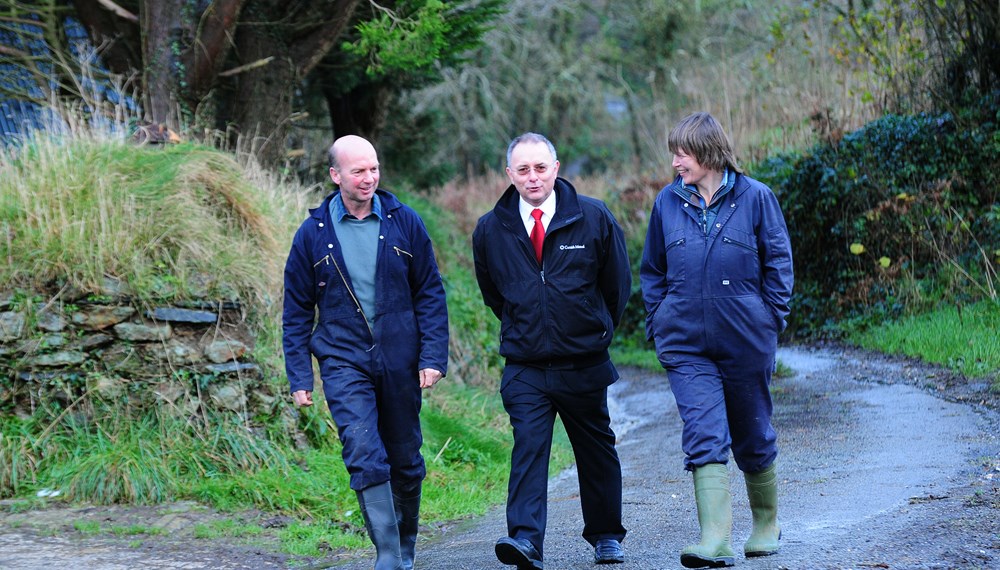 It's a very important issue and something we consciously think about all the time," says Kath Strang, who helps to run her partner Roy's 300-acre beef farm, near Bodmin in Cornwall.
"Anything that can be done to raise awareness of health and safety on farms can only be a good thing and for us it's about practising what you preach. We have a range of measures in place such as a tidy farm policy, a rigorous and continuous programme of maintenance for all the vehicles and machinery, regular training and making sure that we have written risk assessments," she adds.
Kath's partner Roy Runnalls inherited his Grandfather's farm, along with his brother, in 1990. It has been in the family for generations and today Kath and Roy grow corn and keep around 260 South Devon cattle.
Kath has worked at Duchy College near Callington, as a liaison officer and training co-ordinator for 14 years. She spends much of her spare-time during mornings, evenings, weekends and holidays helping out on the farm with tasks such as calving, harvesting, routine feeding and checking stock.
She says, "At the college I'm able to help youngsters coming into the industry to get the right training and support and understand the legal requirements. I suppose that through my work, I understand better than anyone the importance of best practice when it comes to health and safety on the farm. I take what I learn at the college back home and help Roy and his brother to get to grips with it. I'm also able to teach my two daughters about being around stock, wearing the right kit and they've even had telehandler forklift training - I think it's important to lead by example.
"I've lost count of the number of farms I've visited in the past where the son is not wearing a helmet while driving a quad bike and says 'well, Dad never does'. Children see their parents as role models and that's why Roy and I try to pass on our knowledge and experience of the basics when we can. If employers show they care, it does rub off on the younger generation," Kath adds.
Roy's brother, Martin, works part-time on the family farm and Kath is resolute about the three of them getting training and wearing the correct Personal Protective Equipment (PPE) including helmets, gloves and farmers lung dust masks when handling cattle feed, powders or chemicals.
Kath says, "I'd like to think that we make sure hazardous items are locked away, so if there are any visitors on the farm, the dangers have been removed. Roy is exemplary when it comes to keeping the farm clean and tidy and checking and maintaining good kit. If there's a problem it's sorted straight away and we never put things off. We know that if another farmer wants to borrow a machine that it's in safe working order."
Kath has attended two Safety and Health Awareness Days (SHADs) run by the Health and Safety Executive (HSE) during the last seven years, "We definitely need the HSE, people need to realise they're not the enemy but they're there to help with things like risk assessments. A lot of farmers make visual inspections every day, but maybe don't write it down. If they've got something in writing and there's an accident, at least they can show they tried to identify and control the hazards."
Both born and bred in Cornwall, Roy and Kath also handle their stock regularly. Roy explains, "We know that, as a result, they're much quieter and safer to be around so you don't have the risk you have with other livestock. Cattle can be quite skittish and if they don't get used to human contact, it's all new to them when you're trying to carry out routine procedures like TB testing, administering vaccines, moving or loading them. It's much easier to use a corn bag than try and chase them around a field."
Roy, 54, has been a Member of Cornish Mutual for a number of years and is supporting the rural insurer's 'Farmsafe' campaign. Through her work at Duchy College, Kath is involved in organising a series of health and safety workshops with the rural insurer in 2012.
She explains, "If they get farmers together and talking about it, sharing their experience, that's great. We know when you have a death or serious injury how devastating it can be, so anything to reduce the number and prevent them from happening is a real step forward. If there's just one thing they can take away from the day, it will make a huge difference, it's really valuable."
With agriculture having the highest number of deaths and injuries of any UK industry in 2010/11 and eight people being killed in Devon and Cornwall in the last 12 months, Kath feels health and safety needs to move forward, "The situation's slowly improving but it's a huge area that needs working on - many farmers still think there is such a thing as 'grandfather's rights'. They can't use not knowing as an excuse, a lot of people still do that.
"I think farmers definitely appreciate the need for health and safety, but there's always something to do on the farm. Often they work alone outdoors for many hours, they're self-employed, finances are tight and it can be a real challenge to get off the farm for a days' training - who is going to cover for them? All these factors can work against them."