St Ewe Free Range Eggs is a family run, award winning business, situated in the heart of Cornwall.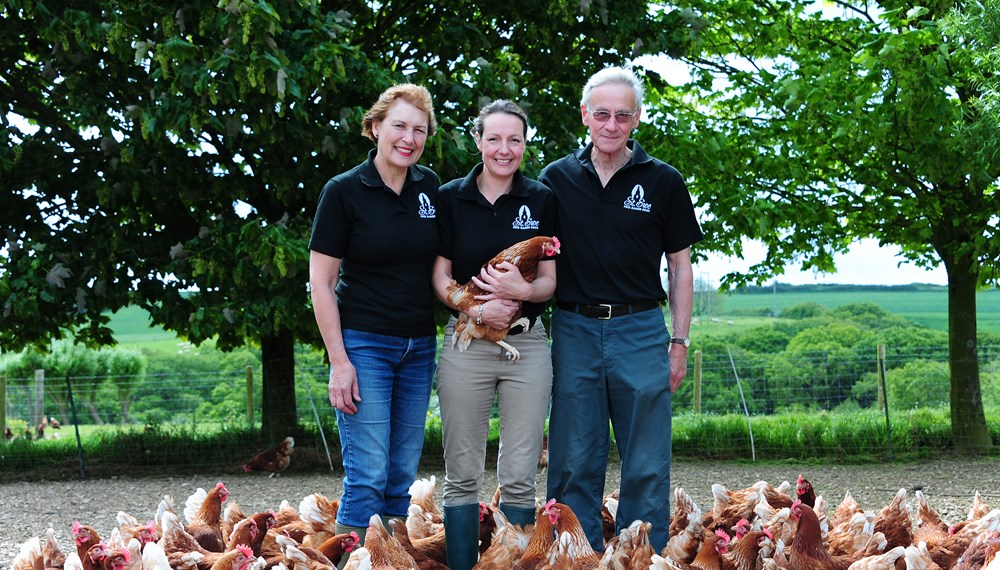 The business was set up over 40 years ago in 1967 by Christine and Richard Tonks, now it's very much a family firm lead by their daughter Rebecca.
The 70 acre farm was originally a dairy farm, but following the introduction of the milk quota and outbreak of foot and mouth, the whole herd was sold to an ice cream maker in Cumbria.
The first hens were introduced to St Ewe in 1982 and since then the business has gone from strength to strength. The farm now focusses all of its efforts on producing high quality, free range eggs, and it has over 14,000 birds, various sheep and a rather naughty pony called Rocko too. 
Putting the chickens first is at the heart of the business and it's something that the Tonks family are very passionate about. 
All of the hens have as much space as possible, easy access to the outdoors and as much food as they'd like. This has lead St Ewe to achieve the British Egg Industry Council Lion Mark for quality and the RSPCA's Freedom Food accreditation.
It's also no surprise that St Ewe have picked up some prestigious awards along the way too. Rebecca has recently been nominated for 'Poultry Farmer of Year' in the national Farmers Weekly Awards. She also won 'Cornwall Farmer of the Year' and 'Best Woman in Farming' at the Cornwall Farm Business Awards earlier on in the year, as well as a Highly Commended recognition for 'Brand Identity' in Pig & Poultry Magazine.
St Ewe have been Cornish Mutual Members for over 10 years and they currently insure their agricultural fleet vehicles and farm buildings with us. As a growing business they like the no fuss approach that Cornish Mutual provides. They find the agricultural fleet policy of particular benefit as all of the business's vehicles come under one policy and the cover can be amended easily when vehicles change. They also value the face to face contact with their local insurance advisor.
Rebecca comments "Joan is absolutely brilliant. She comes out each year and looks after us well. If we ever have any problems we just pick up the phone and it gets sorted out. Only today we put a claim in for a tractor. It's a very good service and as a growing business it's important that we have a 'no fuss' relationship with our insurer."
Joan comments "St Ewe are a brilliant example of the excellent agricultural industry that we have in the South West. Receiving national recognition is a huge achievement and it's a testament to Rebecca and her family on their commitment to producing such high quality produce. As their local insurance advisor, I have been visiting the farm for years and it's been a pleasure to watch their business go from strength to strength."