Little White Alice is a unique private complex, offering luxurious holidays in six sustainable newly built cottages.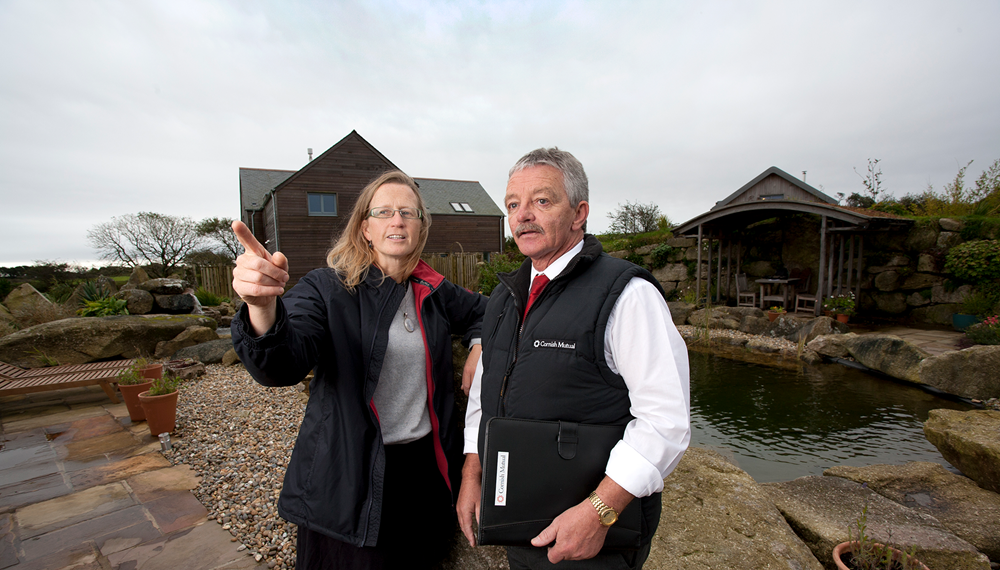 Located in the centre of Cornwall, the 5* cottages are part of a 25 acre eco-complex run by husband and wife team, Simon Toft and Rosie Hadden.
Cornish Mutual Members Simon and Rosie welcomed their first guests to Little White Alice in March 2011, after a two-year renovation of a dilapidated farm. The six cottages combine sustainability with style and comfort, and can sleep up to 24 people between them.
Formerly a financial director living in Southampton, Simon had harboured an ambition to start an eco-holiday business for more than 15 years, and finally took the plunge in early 2009. He moved to Cornwall, bought the farm from Bill Treloar, and soon after met his now-wife Rosie.
"The farm had been passed down through three generations of the same family, so for Simon it was really like buying a bit of history," said Rosie. "He got to know Bill before he took over the farm, and when Bill passed away, Simon was a pallbearer. We still have a good relationship with Bill's wife, Jill - she likes to bring Simon pasties, as she used to for Bill!"
Simon and Rosie's ambition for Little White Alice is to be entirely self-sufficient in energy and water. They have already managed sustainability with water, and hope that having recently secured funding for solar panels to add to their wind turbine, they will soon be carbon neutral when it comes to energy.
Cornish Mutual provides Simon and Rosie with let property insurance including public and employers' liability, as well as buildings and contents cover for the cottages. Rosie said: "It was actually Bill who recommended Cornish Mutual to Simon, as he had the farm insured with them. When it came time to insure the holiday properties, Cornish Mutual were naturally the first people we turned to."
Having now been insured with Cornish Mutual for over 18 months, our local insurance advisor is now a familiar face at Little White Alice.
"Jeff always seems to be interested in what we're doing, which is great. The face to face contact is really important, you'd much rather meet someone and shake their hand, and particularly with insurance, the trust you get from meeting someone matters a lot. There's nothing as disconcerting as picking up the phone and hearing an automated voice, taking you through all the options, then when you do eventually you get to speak to an actual person you can never speak to the same one twice!
"Cornish Mutual have always been really helpful, friendly and approachable. Whenever we have any problems they always are quick to respond, and I know a lot of other people locally are insured with them as well, which is always a good indication of a company you can trust."