Carruan Farm, near Polzeath in Cornwall, is the perfect place to learn about life on a farm, the food we eat, where it comes from and how it is produced.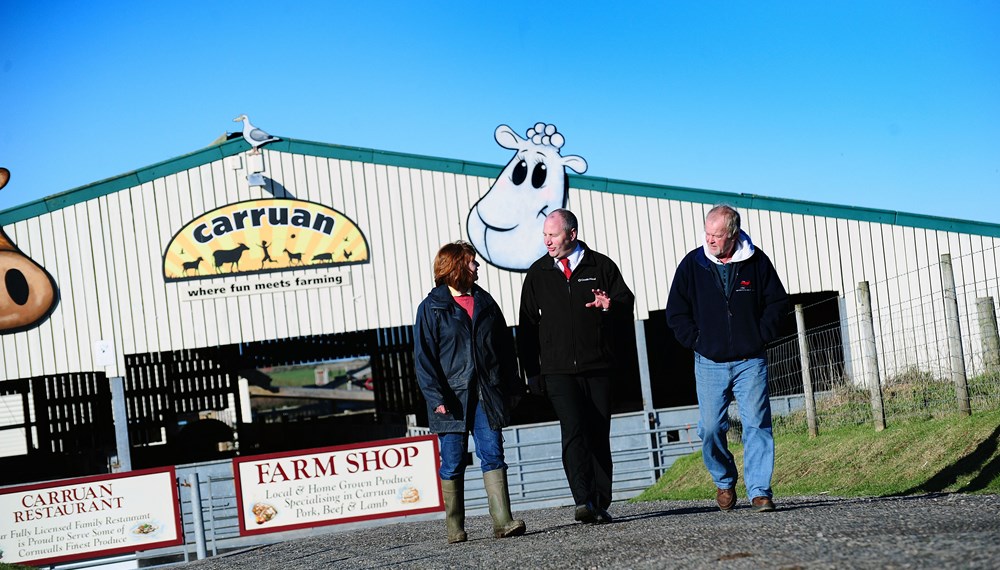 Mike and Clare Parnell, who run the farm with help from their family, welcome visitors young and old to come and enjoy a hands-on farming experience.
Carruan is part of the Countryside Stewardship scheme and is therefore farmed in an environmentally friendly way, helping to preserve the countryside around it. Clare and Mike grow barley, oats and forage crops such as kale and stubble turnips on the land, which is also home to 950 Poll Dorset ewes and a herd of 25 beef suckler cows. Poll Dorset ewes can breed at any time of the year, and as such, Clare and Mike are able to supply Waitrose with lamb earlier in the year than most other farmers. Waitrose sell Clare and Mike's lamb as 'Dorset Lamb', and in 2009, Carruan Farm won the Waitrose Dorset Lamb Producer of the Year.
Carruan offers visitors a variety of entertainment, with Pedal Go Karts, an indoor Play Barn, and Pig Racing and Tractor Rides during the summer months. The Farmhouse Kitchen serves locally sourced, home-cooked food - including Sunday roasts and summer hog roasts - and the fully licensed patio bar enjoys spectacular views down over Pentire Point and out to sea. Carruan can also cater for weddings, children's parties, meetings and school visits. The school visits are very popular, covering a wide range of topics from discovering where our food comes from to crop cycles and caring for the countryside.
Cornish Mutual provide the Parnells with a range of insurances, including public liability because the public visit the Farm, buildings insurance for their house and farm buildings, and a fleet policy to cover the vehicles used on the farm.
The family has insured with Cornish Mutual for many years; Clare and Mike have been Members for around 20 years, and Clare's father insured the farm with Cornish Mutual before that. Clare says, 'When we diversified the farm, we were very keen for Cornish Mutual to provide for our new insurance needs. We did consider other insurers but we have a proven track record with Cornish Mutual, and they were able to quote us for everything we needed - something we found few other companies could do. Things can change week by week at Carruan - one minute we're buying Pedal Go Karts, the next we've organised Crazy Football. We don't understand enough about insurance to know what cover we need, and that's when Jim becomes invaluable.'
Jim Martin, Cornish Mutual insurance advisor, is Mike and Clare's first contact whenever they have any questions or need any advice about their cover. 'We often depend on Jim's advice.' adds Mike, 'As farmers, we knew little about the legalities of opening up our property to visitors."
Every so often, Mike and Clare contact other insurance providers for comparative quotes - ultimately, however, they always favour Cornish Mutual. Clare says, 'To us, it's important to support other Cornish businesses. We have also found Cornish Mutual to be very competitive, and we like the fact that Jim is local and able to visit us on the farm. He understands our business completely, and that is essential in our minds. We would never choose an insurer based on price alone - the service element is much more important to us.'
Jim adds, 'Being able to go and assess a business in person means we are able to provide a more personal service to our Members. Clare and Mike have established a wonderful Farm Centre at Carruan and we have a really good relationship. I have even taken my own children to visit the farm; they loved it, and I have to say the food in the Farmhouse Kitchen is absolutely delicious!'