Cornish Mutual Members Lene and Stephen Cox are living their dream of running a successful family-friendly campsite in a part of Cornwall that has become very special to them.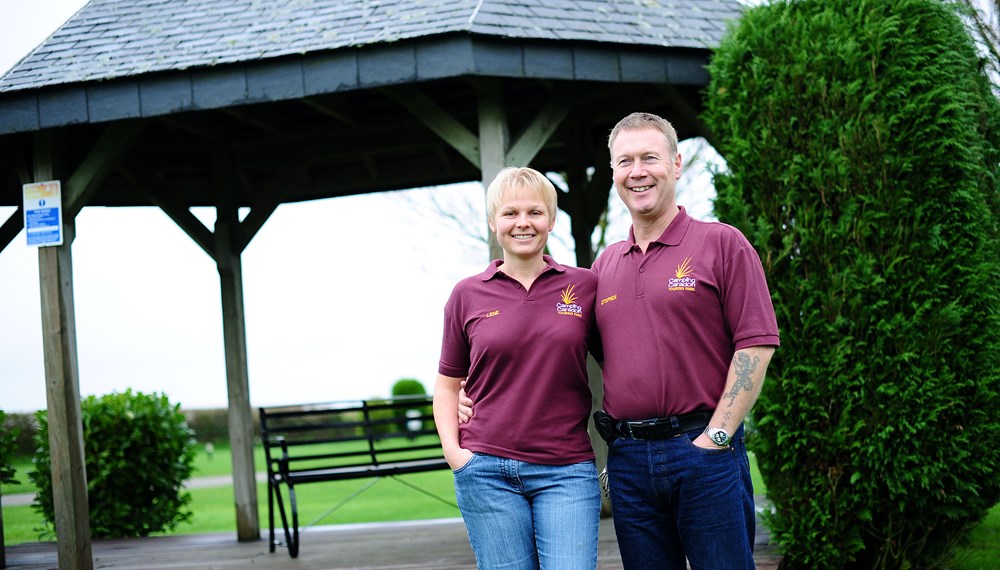 Five years ago the couple left Denmark to embark on an exciting new venture drawing on their love of camping. After a long search for the right business, Lene, originally from Denmark, and Stephen, from Reading, discovered the perfect investment opportunity at Trelawne, near Looe.
When they bought Camping Caradon in July 2005, the site was doing steady seasonal business but was capable of offering much more. Cornish Mutual local insurance advisor Dave Bersey has been impressed by the couple's determination to offer visitors the highest standards of facilities and service to ensure they return time and again.
He says: "Lene and Stephen have really transformed Camping Caradon. What they've created is more than just a campsite - it's a holiday experience. They're excellent hosts and clearly take a lot of personal pride. When I pop by to check how they're getting on, I'm always struck by the way that guests make a point of visiting the office to say goodbye, which is a sure sign they've had a great time."
Set in 3.5 acres, Camping Caradon has 75 pitches and 23 reinforced grass hard standings. Facilities include an amenity block, shop, outdoor playground, bar, clubroom, games room and internet access.
Stephen and Lene have made substantial investments in the years they have been there to offer a high quality 3 AA pennants experience. There is always a winter project going on at Camping Caradon - this year two family/disabled rooms are being built which the couple hope will upgrade the park to 4 AA pennants.
Stephen explains: "Camping is an excellent way to enjoy the best that Cornwall has to offer for a fraction of the price of staying in a hotel or guest house. We've seen a significant increase in the number of campers using tents and being able to offer a high standard of toilet, shower, laundry and recreational facilities is particularly important to that particular growing market."
"My previous career in the building industry has stood me in good stead as we've done a lot to the site to ensure the facilities match our stunning location."
The couple chose Cornish Mutual to provide all of their business insurance needs, which include policies to cover their buildings and stock insurance, as well as Public and Employers Liability insurance.
Stephen chose Cornish Mutual under recommendation from the site's previous owner: "We did shop around to see if we could get a better deal but Cornish Mutual offered everything we needed for a fair price. My local insurance advisor Dave Bersey lives nearby and it's really handy for him to drop by at very short notice when we need to see him."
"There's an old saying that lightning doesn't strike twice but we disproved that theory a couple of years ago. Our second lightning strike hit the clubhouse and did quite a lot of damage to electrical appliances and our wiring, but I was pleased that we'd stayed with Cornish Mutual because they sorted out our claim really quickly and without any fuss."
"For a significant part of the year we're so busy that we barely get a moment to catch our breath so it's really important to have the peace of mind that if anything were to go wrong, we're in safe hands."